Complete Description of Exchange Mailbox Restore
The DPM Stands for Data Protection Manager. It is a software product provided by Microsoft. It provides data protection and data recovery in a MS Windows environment. It is a solution for Microsoft workloads to recover data and backup database. DPM works as a safe guard for the files and folders, Exchange server, SQL server, SharePoint or client computers. It also allows users to remotely monitor the backups. DPM supports Windows server (2003 to 2008) and Exchange server (2003 to 2013) etc. DPM is used for backing up mailbox databases, active and passive database in a DAG (Database Availability Group) in Exchange 2010 and 2013 versions, or continuous replication such as LCR, CCR and SCR in Exchange 2007.
DPM can be used in three ways like disk-based, tape-based or cloud-based for the backup systems.
Disk-based Backup: It is used for the short-term data protection and gives the instant restoration of protected data.
Tape-based Backup: It is used for the long term data retention and initially data is not written to the tape.
Cloud-based Backup: It is for the disaster recovery at a separate data center in which DPM is configured across the internet.
Restore Exchange 2010 Mailbox Using DPM 2010
First of all Create Recovery Storage Group. After creating RSG user need to locate place for the restoration of database from DPM. To do so type the following command:

New-MailboxDatabase -Recovery -Name RDB2 -Server vEx2010 -EdbFilePath "E:\Recovery\RDB2\RDB2.EDB" -LogFolderPath "E:\Recovery\RDB2″
From the DPM, open DPM Administrator Console and click on Recovery option. Type the appropriate date and source through the calendar date and backup. Then after right click on the database and select Recover option. From the Recovery Wizard, select the Recover to RSG option. Click on the browse option to select the mailbox server. Then type the name of the Storage Group and database. On the next screen, mount the database when recovery has been completed and then click on next button. From the summary screen click on the Recovery option. The time of the recovery depends upon the size of the database.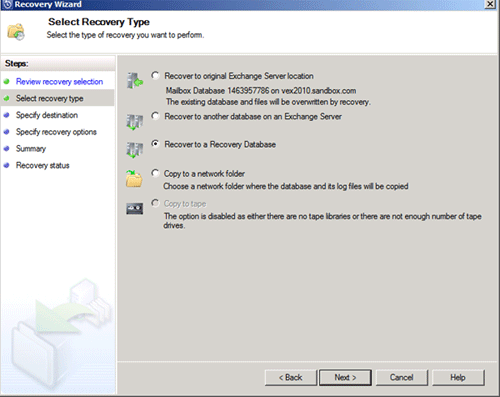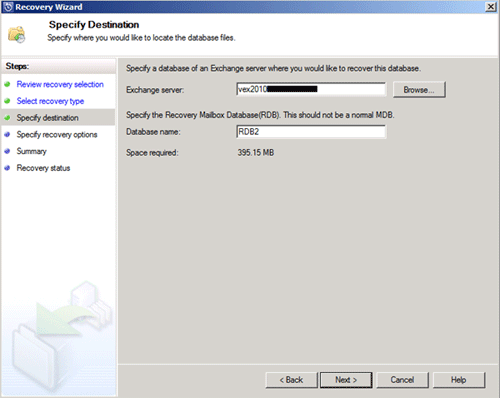 Now database has been restored to the RSG and ready to be mounted. From the Database Recovery Assistant, click on the Mount or dismount Database option in the RSG. Choose the dismount database then click on the Mount Selected Database. Then go to Task Center. Now at this point recovered database is ready to be searched.
In the process of database recovery user can face problems related to server errors. These errors affect the database of Exchange server and result in the database corruption. In this situation Exchange database recovery software helps to recover data in an easy way. Software recovers whole database of Exchange server and converts data into healthy environment.